How Can Appliance Manufacturers Cut Costs?
As all appliance manufacturers will tell you, not all parts are created equally.
While a standard washer can be simple and fast to manufacture, other parts — like numbered knobs on ovens, for example — may require requiring multiple production processes or highly specialized services. These services can quickly run up in-house production costs.
This is especially true for appliance manufacturers, whose products are consumer-facing and often feature complex parts. To keep costs of complex parts low, consider using a turnkey manufacturer.
Case Study: Commercial Oven Knob from Appliance Manufacturers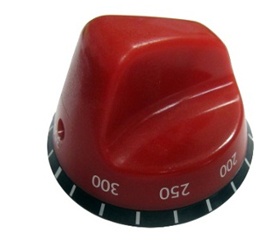 Turnkey manufacturing allows you to outsource the production of complex components to manufacturers who can produce them expediently and cost-effectively.
One appliance manufacturer did just this when they approached K&B Molded Products regarding injection molding for an appliance application. In particular, they required the production of a temperature control knob for commercial oven models.
The design of the knob was very complex. It required two injection molded products that needed to be seamlessly joined, one screw hole, and a pre-installed screw.
The Solution
After receiving the knob's specifications from the appliance manufacturer, our team at K&B designed and machined molds for the two primary knob components.
We also designed and machined in-mold inserts, which allowed us to create the screw hole without a secondary machining process. We then suggested glass-filled nylon for the injection material to the client, which would best suit the knobs' end use in commercial kitchens. With molds made and materials selected, we began production.
The highlights of the production of this knob were two additional processes that are also excellent examples of the benefits turnkey manufacturing can provide. To connect the two primary components of the part we used our sonic welding capabilities, an uncommon offering that is ideal for joining plastic. We were also able to install the set screw as a value-added service.
By reaching out to K&B for our turnkey manufacturer abilities, this appliance manufacturer found a true one-stop solution offering quality, speed, and cost efficiency.
Learn More
K&B Molded Products has been providing turnkey manufacturing solutions for over 50 years. From design to packaging, K&B is truly a one-stop solution to your complex manufacturing requirements.
For specifications on the knob and other information about the project, as well as to learn more about K&B, visit the full case study at on our website.