MOLDED PRODUCTS FOR ANY INDUSTRY
---
Utilizing our many capabilities, including sonic welding, overmolding and hot stamping, we've molded components for a variety of applications.
Temperature-Setting Knob
K&B was recently approached by an appliance manufacturer that required a unique temperature-setting knob for use on commercial oven models.
View Case Study
Nozzle Adapter for Fuel Oil Heater
At K&B Molded Products, we manufactured the nozzle adapter highlighted here for use in a forced-air fuel oil heater.
View Case Study
Support Cross for Motor Mount
Modern manufacturers must keep pace through innovation and ingenuity.
View Case Study

Thermoplastic Rubber Adapter
with hose clamps and cap installed.

Polypropylene Base
Several styles of this product screw together with an Acrylic Bowl. When assembled with metal screen, they make a water filter for camping.

Carbon Filled Nylon Impeller
Base with a powdered metal insert over-molded in the hub. A matching top plate is ultrasonically welded onto this part in a secondary operation.

Two-Bladed Propeller
motor for a fishing trolling motor.

Two Piece Interlocking Collar
which when assembled, aligns a large paper roll on a steel shaft.

Two Piece Cradle
held together with one screw to stow a trolling motor when not in use.

Ventilation Hood
for exhaust gases from a hot water heater.

Instrument Panel
Rear view of the front cover for an instrument panel. This device is required to be water-tight.

7 Inch Acrylic Lens
for a road hazard warning signal.

Multi-Colored And Multi-Durometer
thermoplastic rubber handle grips for cushioning steel shafts.
Acetal Impellers
A 4 inch, submersible deep-well pump, showing the blade configuration prior to the top being ultrasonically welded onto the base.

polycarbonate housing
with polyester push buttons and curved arms assembled, which allow the screen angle to be adjusted.

Three Blade Propeller
for fishing trolling motor.

Peek Flanged Sleeve
with three brass threaded inserts molded into the part.

Acetal Bearing Retainer
formed by over molding 8 high-chrome steel balls. The acetal extends below the centerline to hold the balls in place and the lubricity of the material allows the balls to rotate in this low speed application.

Glass Filled Nylon
Locking Collar to locate a unit on a steel shaft.

ABS Adjustment Knob
with rotationally hot stamped numbering.

ABS Housing
with numerous compartments to hold various different components of the final assembly.

Glass/Mineral
filled Polypropylene Housing with four threaded studs over-molded into the part to allow a motor to be assembled.
Our
Process
---
K&B has a proven 6-stage process that provides full-service solutions. We help companies navigate plastic injection molding methods to streamline products and processes, save money and work smarter. We don't just manufacturer the right parts, we evaluate the full process, helping companies deliver and outperform the competition.
Learn More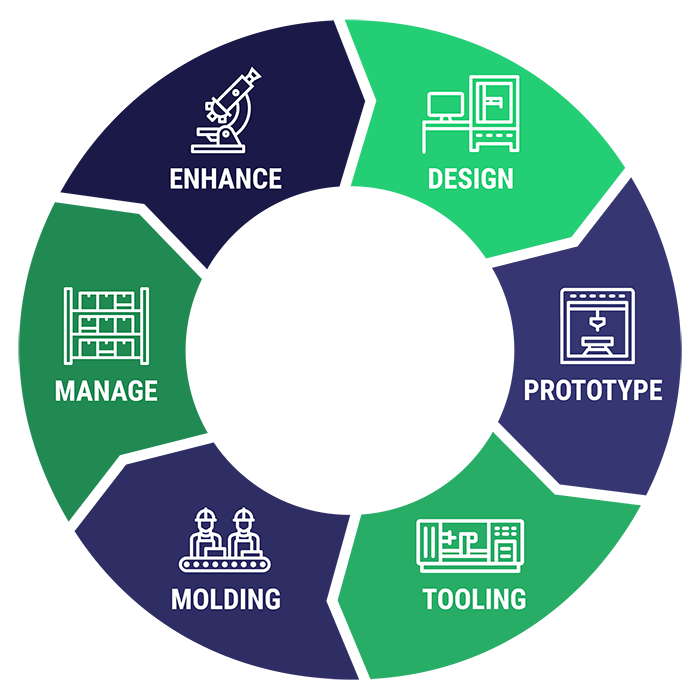 Sign up for news and updates
---