Support Cross
for Motor Mount
---
As more industries move towards advanced technologies with an eye on reducing costs, modern manufacturers must keep pace through innovation and ingenuity.
Our engineering team at K&B Molded Products leverages technology to create injection molded replacements for machined metal components, with equal strength, faster turnaround, at a much lower price point.
Designed for use in a pump assembly in a residential septic system, the mount, highlighted below, supports the motor and impeller in the aerator unit. As shown in the photographs, the original cast iron part incorporated three leg rods that screwed into the body to elevate the motor assembly inside the septic tank.


Our
Process
---
K&B has a proven 6-stage process that provides full-service solutions. We help companies navigate plastic injection molding methods to streamline products and processes, save money and work smarter. We don't just manufacturer the right parts, we evaluate the full process, helping companies deliver and outperform the competition.
Learn More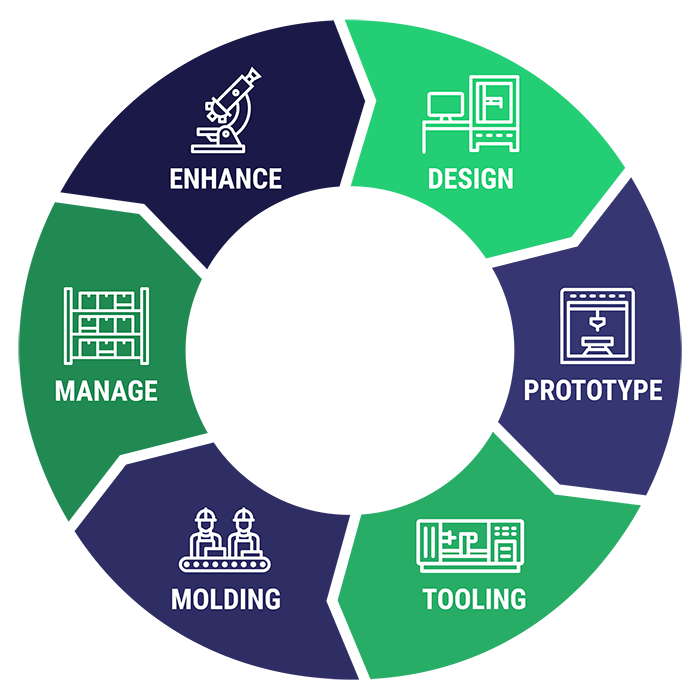 THE SOLUTION
---
Other features included a center bore that had to be machined to tight tolerances, a bottom that needed to be machined flat, as well as five separate threaded holes, all of which needed to be machined and tapped. The design was not very stable, and the brittleness of the cast iron construction was a concern.

We took a fresh approach to the physical and mechanical design aspects of this assembly. We determined that using a polyester alloy would provide improved impact strength and robust chemical resistance without compromising mechanical performance.
Our inventive design incorporated numerous ribs to compensate for the mass of the cast iron, and the three 1/2-13 threaded holes for the support legs were molded in at an angle to add stability. We also molded in the large threaded hole on the side, and cored the small 5/16-8 hole.
The only secondary process required was to tap in the threads, which was done right at the press as the next part was being molded. Although this process required several hand-loaded steel inserts to form various features, it made the tool very affordable for a relatively small volume of parts.
This part featured dimensions of 7 1/2" in length x 5 1/8" in width x 2 3/8" in height, and our attention to detail allowed us to uphold precise ±.005" tolerances. Using our novel strategies, we were able to reduce the number of secondary machining tasks from 13 down to one, saving a significant amount of time and expense. The net result was a better quality, less expensive part.
Project Name & Description
Support in which 3 legs are crewed to elevate a motor to aerated septic systems
Capabilities Applied/Processes
Primary: Injection Molding
Secondary: Power Hand tools to remove mold details after part is solid
Equipment Used to Manufacture Part
150 Ton Injection Molding Machine
Tapping Machine
Overall Part Dimensions
7 1/2" x 5 1/8" x 2 3/8"
Tightest Tolerances
±.005"
Material Used
Polycarbonate/PBT polyester alloy
Industry for Use
Waste Management (Septic Systems)
In Process Testing/Inspection Performed
Gage the bore into which the motor is mounted and check the treads on one 5/16 hole that is machined as a secondary operation
Volume
4,000 units/year
Delivery/Turnaround Time
3 to 4 weeks
Delivery Location
Ohio
Standards Met
Customer Supplied Prints
Sign up for news and updates
---