K&B has a proven 6-stage process that provides full-service solutions. We help companies navigate plastic injection molding methods to streamline products and processes, save money and work smarter. We don't just manufacturer the right parts, we evaluate the full process, helping companies deliver and outperform the competition.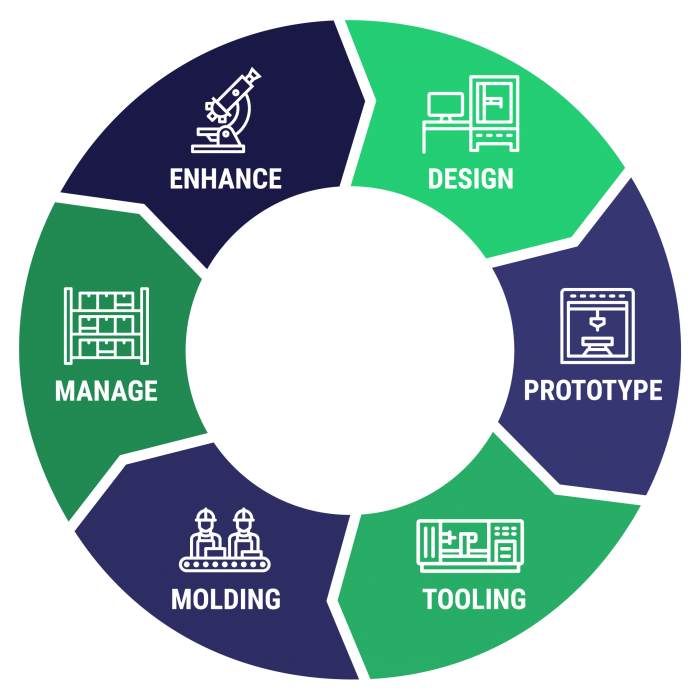 Design
Our master tool and die professionals utilize advanced engineering software to create 3D renderings and in-process simulations, which allows us to validate the final design prior to manufacture.

Prototype
Prototyping is a valuable step in the part development process that can prevent costly engineering changes once the production phase has begun. Many testing and development processes can now be performed using computer-aided modeling systems.

Tooling
The well-honed skills of our technically educated toolmakers allow them to expertly craft injection molds, new mold builds or repairs, precision machining, gauge, and fixture work.

Molding
Thermoplastic injection molding is performed using a wide variety of materials. From short prototype runs to extensive round-the-clock runs, we are a true custom molder.

Manage
Vendor-managed inventory is a value-added service K&B provides as part of our design-to-shipping turnkey solution for plastic injection molded products. After the part is designed and manufactured, customers can send K&B their copies of part orders, and K&B will send the product to distributors country-wide. We then notify the customer when the part has been shipped. Distributors are invoiced for the shipping service.

Enhance
Improving the quality of products is always to be the first plan for any business success. We're always looking for possibilities to improve your product and service. We carefully analyze every technical development and think how we can make your product better to help you in your business.
Sign up for news and updates
---