Expert Molding Tool & Die
---
For more than half a century at K&B Molded Products, our expert tool and die design and manufacturing services have been an industry leading source for high-quality tooling and fixtures for discerning clients in a diverse range of industries. Our master tool and die professionals utilize advanced engineering software to create 3D renderings and in-process simulations, which allows us to validate the final design prior to manufacture.
We use a highly disciplined process to address all issues early in the product lifecycle. By fine-tuning mold, die, and fixture designs, we ensure that your products will be in compliance with all of your standards and requirements.
The well-honed skills of our technically educated tool makers allow them to expertly craft injection molds, die casting dies, as well as checking, assembly, hot stamping, and machining fixtures. We choose material of construction based on estimated lifecycle — from prototype tooling to fulfill early part requirements to robust, high integrity tooling for mass production.
Our stringent inspection processes are conducted by trained quality engineers in accordance with our ISO 9001:2008 quality management program. They incorporate dimensional inspection as well as feasibility testing and in-house tooling verification to ensure accurate and repeatable production of your parts.
Our
Process
---
K&B has a proven 6-stage process that provides full-service solutions. We help companies navigate plastic injection molding methods to streamline products and processes, save money and work smarter. We don't just manufacturer the right parts, we evaluate the full process, helping companies deliver and outperform the competition.
Learn More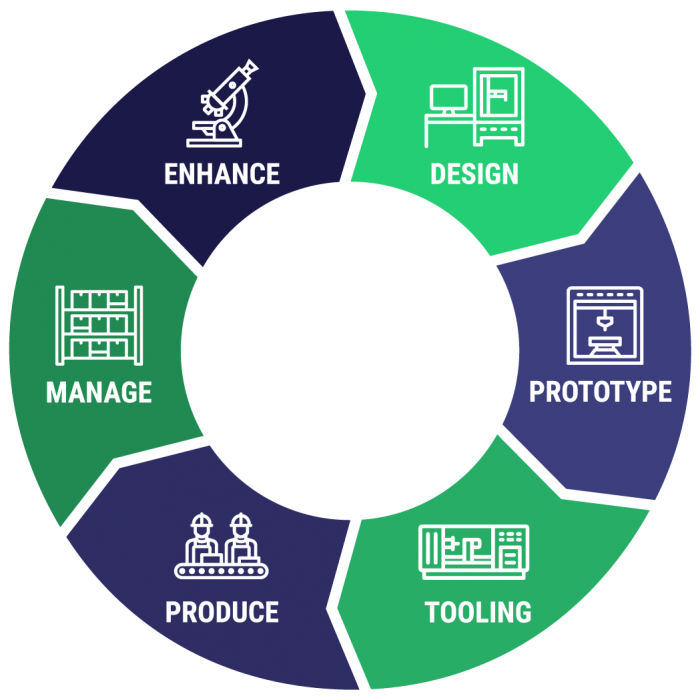 Regular maintenance ensures molds and dies are production-ready on a moment's notice. We maintain comprehensive tool history documentation and are available to provide technical support on an ongoing basis for the lifetime of your tooling. In addition to our in-house resources, we also have access to overseas sources to provide cost-effective and efficient mold making solutions for projects with longer lead times or tight budgetary constraints.
For more information about our tool and die design capabilities, see the table below. Contact us at any time to discuss your project.
Molds & Tooling Specifications Table
General Capabilities
Design
Engineering
Inspection
Testing
Tool History Documentation
Technical Support
Die Types
Injection Molds
Die Casting Dies
Tooling
Checking Fixtures
Assembly Fixtures
Hot Stamping Fixtures
Machining Fixtures
Material Applications
Injection Molds

ABS
Acrylic
Acetal
ASA
Nylon
PEEK
Polycarbonate
Polyester
Polyethylene
Polypropylene
PPO
Polystyrene
PC-ABS alloy
PC-ASA alloy
PC-PBT alloy
PC-PET alloy
Polycarbonate-polyester alloy

Die Cast Molds

Aluminum Alloys
Zinc Alloys

Typical Lead Times Available
4 – 20 Weeks Depending on Mold Configuration
Additional Information
Industry Focus
Injection Molding
Die Casting
Industry Standards
ISO 9001:2008
ISO 9001:2000
UL Registered
File Formats
DWG, DWZ
AutoCAD
DXF
Drawing Interchange Format, or Drawing Exchange Format
GIF
Graphics Interchange Format
IGES
Initial Graphics Exchange Specification, ANSI file format.
IDW, IPT
Inventor
JPG or JPEG
Joint Photographic Experts Group
PDF
Portable Document Format
SLDPRT, SLDDRW, SLDDRT
SolidWorks
STEP
Standard for the Exchange of Product Model Data
Sign up for news and updates
---