Designing, Repairing, and Modifying Molds
---
K&B Molded Products has the full support of Kuhns Mold and Tool, allowing us to design, fabricate, and implement new molds as well as repair or modify existing molds on-site.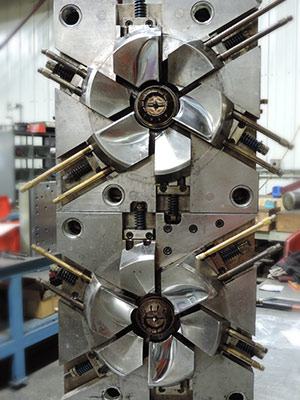 Kuhns is a full-service mold and tool builder with complete modeling, design, and CNC machining capabilities.
The first step in tooling development begins with CAD design. Based on the material, end-use, and volume of the part in question, precision tooling is developed. Computer modeling allows the designer to not only develop the geometry of the mold, but simulate the actual injection molding process to visualize the flow of the polymer into the mold cavity.
The modeling and simulation process prevents flow lines, voids, and other undesirable characteristics that plague poorly molded parts.
Once the mold design has been finalized, the mold is machined using CNC driven equipment. CNC milling centers are the ideal way to create complex mold patterns into hardened materials. In addition to the mold cavity, venting and other features are incorporated into the mold to facilitate fluid flow and material curing.
Proven inspection techniques are used to verify the quality and accuracy of the machined features. Surface finishing and heat treating processes are used to prepare the mold for production and ensure maximum tool life. We are ISO 9001:2008 certified and have an established quality management system that controls all aspects of the molding process. Molds are constantly monitored for wear and routine maintenance is performed to prolong the life of the mold.
In the same manner that new molds are fabricated, existing molds can be modified or repaired as needed. Whether the issue is a design change or a poorly cared for mold that was used at another facility, we can troubleshoot and repair molds according to all applicable quality specifications.
Sign up for news and updates
---