Custom molded services
---
K&B is a custom injection molder that specializes in a wide range of value-added molding. We work with 26 machines and presses that range from 66 to 733 tons. Since our founding in 1964, we have maintained a leadership position in the field of plastics technology to produce high-value components that exceed your expectations in terms of quality, delivery time, and cost.
We strongly advocate early supplier involvement in product design and development projects to optimize product specifications, performance criteria, material selection, and manufacturability. By tapping into our resources at the design phase, we can address all issues early in the development cycle, help control expense, and improve time-to-market.
Combining the design flexibility of injection molding with the availability of engineered plastic resins that have outstanding strength and durability, we can engineer metal-to-plastic conversions that improve component integrity while reducing weight and cost.
Our modern, well-maintained facility houses presses with 66 to 730 ton ratings for handling shot sizes from less than a single ounce all the way up to 85 oz. As a turnkey vendor, we have a staff of mold and tool professionals as well as overseas mold making resources for budget-constrained applications. Well-engineered, precision-built, and meticulously maintained tooling, combined with advanced process controls, allows us to uphold close tolerances. We also offer numerous value-added services to streamline your supply chain while providing measurable cost savings.
We devoted significant time and resources to develop our ISO 9001:2008 quality management program, which places great emphasis on all factors involved in production and fosters a culture of continuous improvement. Our client base spans a diverse range of industries and we are continually expanding our reach. We have the capacity to manage small projects as well as those that require tens of thousands of pieces, all within very narrow timelines.
Plastic injection molding is commonly of thermoplastic and thermosetting polymers materials and is the basic process of using a hot runner to inject melted material into pre-made molds. The end result is a part used as-is or as a component of a larger process. More information about our expert injection molding capabilities is presented in the table below.
Plastic Injection Molding Specifications
Mold Process Type
Single Shot Plastic Injection Molding
Insert/Over Molding
Materials
ABS
Acrylic
Acetal
ASA
Nylon
PEEK
Polycarbonate
Polyester
Polyethylene
Polyimide
Polypropylene
PPO
Styrene
Thermoplastic
TPR
PC-ABS alloy
PC-ABS alloy
PC-PBT alloy
PC-PET alloy
Specialty Material Features
Stainless Steel Fiber Filled
With / Without Glass
Carbon Filled
Value-Added Services
Component Assembly
Decorating
Drop Shipment – Order Fulfillment
Heat Transfer
Hot Stamped
Impeller  Balancing
Kitting
Labeling
Point of Sale Packaging
Specialized Machining
Ultrasonic Welding
Clamping Force
Shot Size
 
Tolerance (+/-)
± 0.001
Additional Services
Engineering – From Metal to Plastics
Mold Making/Tooling Development
Material Selection
Product Design Assistance
Lead Time
3 – 4 Weeks
Quoted on Job by Job Basis
Emergency/Rush Services Available
Production Volume

Min
25 pcs
Max
100,000+ pcs

Specialty Production Shop
Prototype – In Anticipation of Production
Low Volume – High Volume
Additional Information
Industry Focus
Aerospace
Appliance
Automotive
Commercial
Consumer
Environmental
Food Equipment
Food Handling
Housing/Construction
HVAC
Marine
Medical
Oil & Gas
Pressure Washers
Recreational
Waste Water Treatment
Water Quality Testing Products
Industry Standards
ISO 9001:2008
ISO 9001:2000
UL Registered
File Formats
DWG, DWZ
AutoCAD
DXF
Drawing Interchange Format, or Drawing Exchange Format
GIF
Graphics Interchange Format
IGES
Initial Graphics Exchange Specification, ANSI file format.
IDW, IPT
Inventor
JPG or JPEG
Joint Photographic Experts Group
PDF
Portable Document Format
SLDPRT, SLDDRW, SLDDRT
SolidWorks
STEP
Standard for the Exchange of Product Model Data
Our
Process
---
K&B has a proven 6-stage process that provides full-service solutions. We help companies navigate plastic injection molding methods to streamline products and processes, save money and work smarter. We don't just manufacturer the right parts, we evaluate the full process, helping companies deliver and outperform the competition.
Learn More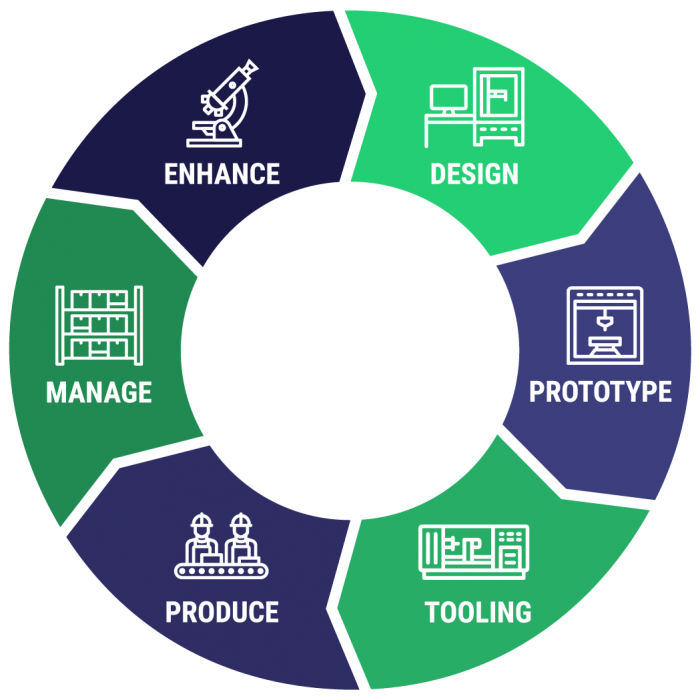 Sign up for news and updates
---