Hot stamping
---
As part of K&B Molded Products' turnkey service offerings, we conduct Hot Stamping on our premises. During the hot stamping process, an ink is transferred to the part through a heated stamp or dies.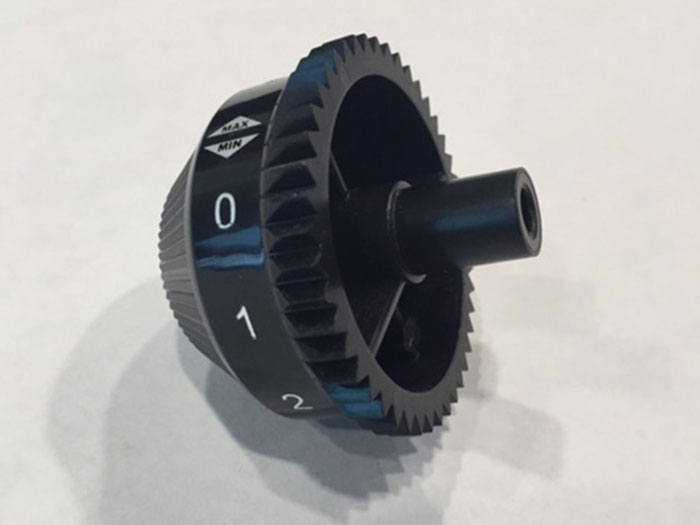 Hot stamping can be used to add logos, color accents, or instructional information to plastic parts. Because the ink is transferred to the part at a high temperature it is able to cure at room temperature, resulting in a durable finish.
Foils and specialty films can be used to add custom finishes such as a metallic look, to parts. To create the custom design, a die is cast or machined from copper, brass, magnesium, steel, or silicone, depending on the detail of the artwork and expected production volume.
Because the ink used in hot stamping is dry, there are no volatile chemicals for employees to contend with, no specialized venting equipment is required, and there is no dry/cure time to slow down production. Without the need for costly air handling equipment, we are able to provide hot stamping at a very attractive price point. When selecting an injection molding vendor, it is important to look beyond the injection molding process itself and consider the need for any secondary processing of a part or assembly.
At K&B Molded, we have been providing premium quality injection molded products and assemblies to customers in a wide array of industries for 50 years. We began as precision manufacturers of injection molding tooling, but quickly grew to provide customers with injection molding services as our reputation for quality and service grew.
Most customers have reached us as a result of direct referrals and as such our growth and continued presence through multiple challenging economic climates can be accredited to our dedication to providing the best quality parts and service in the industry. As the needs of OEM customers continue to evolve, so do our processes and secondary services.
Today, we strive to provide a turnkey manufacturing option that encompasses everything from part design and tooling development, all the way through to packaging and fulfillment. Our combination of adaptability and extensive history in the industry continues to serve us well and provide our customers with a reliable partner to ensure their continued manufacturing success.
Sign up for news and updates
---