Learn the Benefits of Working with a Turnkey Manufacturer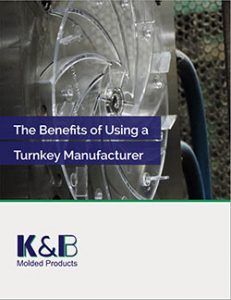 Are you looking for a partner to help you manage your manufacturing process from the design to the inspection phase?
Turnkey manufacturing is a system where a single provides complete manufacturing and supply chain services. The turnkey model allows companies to reduce their risk, keep overhead low and move quickly to meet market demands.
Our eBook, The Benefits of Using a Turnkey Manufacturer, explains the process and advantages of the turnkey model.
This guide provides an overview of some of the many benefits of working with a turnkey manufacturer such as:
Comprehensive renderings and in-process simulations of products
Fine tuning molds, fixturing designs, and meeting standards for production
Proper quality control and assurance
K&B Molded products can help bring your product to market by providing design assistance; tooling, molding and manufacturing services, and quality control of your product. To learn more, fill out the form and download your copy of this eBook today.