Learn How Moving from Metal to Plastic Can Benefit Your Business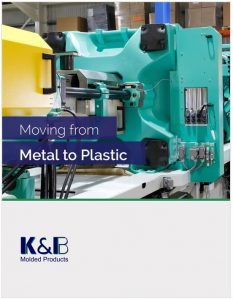 Are you looking for a cost-effective solution for your metal part? Need to increase flexibility and reduce weight or economize spend on raw materials?
Today's leading plastics manufacturers leverage technology to create superior injection molded alternatives to conventionally machined metal parts. Plastic parts can be formed to the same tight tolerances and strengths as metal, and their material and light weight reduces total manufacturing costs.
K&B's guide, Moving from Metal to Plastic, explains these advantages of transitioning metal components to chemical- and heat-resistant plastics and more.
In the guide, you will learn that plastics:
Can reduce your weight of parts by 50%
Are manufactured with less scrap material waste
Offer greater design flexibility, allowing for more complex shapes and geometries
And more.
Complete the form to get your free copy of this educational guide.