Access Molding Tolerances for Your Material
Molding tolerances vary depending on the material you're using for your application.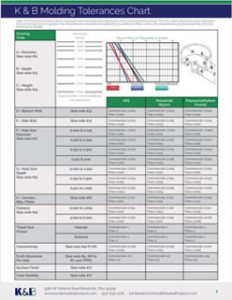 Since tolerances ultimately impact your mold's capabilities and production cost, K&B has developed a Molding Tolerances Chart that breaks down tolerances by six commonly used molding materials:
ABS

Polyamide (Nylon)

Polyoxymethylene (Acetal)

Polycarbonate

Polypropylene

Thermoplastic Polyester
Each of the injection molding materials includes tolerances for both Fine and Commercial classes, depending on your specific project. This will give you a sense of the narrowest tolerances available vs. the most economic tolerance choice.
Access the guide now by filling out the short form.