Discover What K&B Can Do for Your Project
View our range of capabilities in K&B's equipment list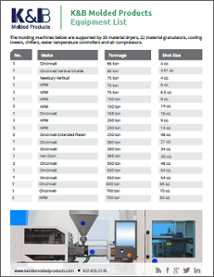 K&B Molded Products' wide range of machinery allows us to take on a myriad of projects.
Our 26 presses and other state-of-the-art equipment ensure that we have the capability to not only complete the job, but complete it with the highest level of quality for your project.
With core capabilities in injection molding, hot stamping, heat transfer and sonic welding, we offer solutions from start to finish.
K&B's Equipment List shows the cutting-edge machines and processes that make our group an ideal partner for your project.
In the list, you will find our significant investments in:
Molding machines
Heat Transfer machines
Hot Stamping machines
Ultrasonic Welding equipment
Simply complete the form to get your free copy of this list.