Learn the Key Terms Involved in
Plastic Injection Molding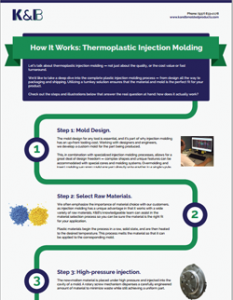 Parameters and timing are critical factors in the injection molding process. Partnering with an experienced injection molding company can ensure this process is completed at the lowest cost and highest quality.
But understanding the basics of the injection molding process can enhance communication so you can be sure the project runs as smoothly as possible. With K&B's guide, Key Terms to Know for Plastic Injection Molding, you can find all the language you need to know about injection molding.
The glossary provides all the basic terms you need to know for plastic injection molding, including:
Core Outs
Ribs
Shrink Rate
Complete the short form to download this free guide today.