Injection Molding Infographic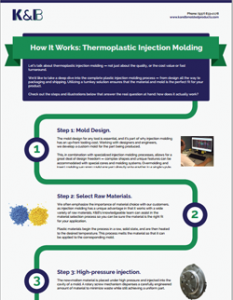 Learn how turnkey manufacturers cut costs and deliver better quality
Turnkey manufacturers simplify the injection molding process by eliminating extra steps and providing assistance in design and material selection.
To get the best value for your dollar — and the highest quality product — it's critical to involve your injection molder as early in the project as possible.
In our latest infographic, we illustrate how turnkey manufacturers can assist in injection molding projects from design all the way to delivery. Inside, you'll learn:
How molders work with you to develop a custom mold design

The importance of material choice for your project

How turnkey manufacturers can assist in delivery

And more
Simply fill out the form to access your copy of the infographic.