What criteria do injection molding experts consider before manufacturing?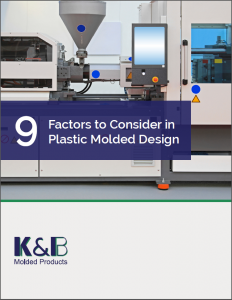 The injection molding process is complex, and molds must be designed to properly form and release quality products on a consistent basis.
Before you send your design to a trusted manufacturer of injection molded parts, it is helpful to understand the criteria that play a role in the part's design.
K&B Molded Products' 9 Factors to Consider in Plastic Molded Design offers a look at the elements to keep in mind for your part's design and mold.
Outside of general design criteria such as shape, form and material type, the following factors must be considered as well:
Draft angles
Surface finish
Witness lines
And more
Fill out the short form to access this free guide today.