Since 1964, K&B Molded Products has helped customers across a broad range of industries glean the benefits of the injection molding process.
In applications where parts are subject to corrosive environments, the use of thermoplastics has brought longevity and durability unavailable in parts that are composed of metal.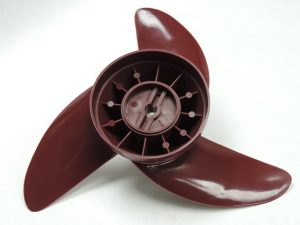 Nowhere is this truer than in the marine industry; whether salt water or fresh, the constant exposure to moisture and the elements can corrode virtually any metal. However, modern thermoplastics are not susceptible to the same deterioration experienced by most metals.
For much lower cost than corrosion resistant metal alloys, thermoplastics can be formulated to resist a myriad of corrosion sources, as well as deterioration due to extended exposure to UVs.
For the Marine industry, this means greater design flexibility at lower costs, and for this highly competitive market every advantage counts. Our services to this industry include a wide range of products including items such as protective covers for electronics, remote control FOBs, propellers, and various trolling motor parts and components.
As systems and requirements for marine applications become more complex and integrate more and more electronic components, our flexibility has allowed us to step beyond being just an injection molder. We recently completed an indicator for one of our Marine customers; this was a multi-faceted project that consisted of an assembly that included nine different parts and a printed circuit board.
The initial parts were fabricated to precise customer specifications and included complete design and fabrication of the dies as well as injection molding. The assembly process was quite involved and included the ultrasonic welding of a translucent diffuser, part decoration of the indicators side assembly, and the installation of an injection molded gear.
A printed circuit board was stake heated into place, and the whole assembly was held together with a spring and clip.  We also provided special packaging that gave the assembly protection and allowed for easy removal for final installation.
However, this example is only one of the products and services that we provide the marine industry. We also injection mold a number of motor mount parts and components that include decoration, with heat transfer labels that are applied right in the press. We manufacture a wide range of thermoplastic rubber grommets that are used for applications such as support and vibration dampening of mounting assemblies, for electrical cords and controls as a strain relief element, and penetration sealing.
Specifically for trolling motors, we fabricate a specially designed cradle assembly that supports the motor when it is tilted out of the water. This assembly is molded and assembled, and includes a rack guide, cover, handle grip, a foot pedal, and gearing. We also injection mold and decorate a knob that is designed as a visual speed indicator and is operated by the pedal. The knob is unique as it is decorated on the outer diameter with heat stamping, a capability that few manufacturers possess.
For marine fuel tanks, we manufacture a unique polyethylene direct fill tube. This product features a CNC machined undercut in the inlet, which is designed to hold the fill nozzle. Manufacturing also includes tether and Nylon ring, both of which require three molds to complete.
Other products include a two piece gear housing for a 4 gear reduction drive, also used on a trolling motor. Manufacturing of this item required injection molding as well as high precision CNC boring. We also provide injection molding of various types and sizes of thermoplastic gears for hubs and planetary drives, using individual molds and achieving tolerances as tight at ±.0005".
Our facility is also equipped with a shell molding system; the process used on this machine involves the loading of 18 3/16" diameter ball bearings. The bearings flow into the mold that forms a carriage assembly that holds the bearings in place. The molded carriage is composed of acetal, whose high stiffness and low friction characteristics provide superior dimensional stability, far greater than that of Derlin. For the Marine industry, the combination of value and precision manufacturing is a win-win scenario.
For more information about our capabilities, feel free to contact us directly.