K&B was recently approached by an appliance manufacturer that required a unique temperature-setting knob for use on commercial oven models.
The selection knob was fairly complex: to start, it required two separate injection molded pieces that ultimately had to be joined.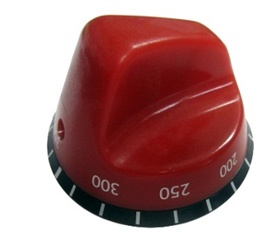 Also required were a set screw hole, the set screw itself, and an additional threaded screw hole on the side of the knob.
The completed knob had to be 3 inches in diameter and maintain the very tight tolerance of .002 inches, particularly in the center shaft hole inside the knob.
The Problem
Due to the complex nature of its design, the temperature selection knob required a number of different manufacturing processes, including both molding and ultrasonic welding.
Few manufacturers can offer the range of processes this knob required, especially at a cost-effective rate. The client approached K&B because of our renowned turnkey manufacturing abilities.
We offered every capability the client required, offering them a true one-stop solution for their knob.
The Solution
We started this intricate project from scratch.
First, we designed and manufactured brand new molds based on client specifications for each of the primary components. We also fabricated inserts, placed in the mold to create the threaded set screw and side holes.
Next, we injection molded the parts using 13% glass filled Nylon, an extremely sturdy material, so that the completed knobs would withstand the rigors of professional kitchens.
The real highlight of this project was in joining the two injection molded pieces. K&B is one of a very small number of injection molders with sonic welding capabilities. Sonic welding was the perfect method for joining plastic injection molded pieces — we used our 20 kHz ultrasonic welding machine to create the welds.
Finally, as a value-added service, we inserted set screws into the set screw holes created by the mold inserts. Our ability to perform such a variety of processes, offering complete start-to-finish production of the temperature selection knob, allowed the client to save considerable costs when working with the K&B team.
Specifications Table
Equipment Used to Manufacture Part
Injection molding press
20-kHz ultrasonic welding machine
Overall Part Dimensions
3″
Tightest Tolerances
± .002"
Material Used
13% glass-filled Nylon
Industry for Use
Appliance
In Process Testing/Inspection Performed
Gauge to check proper sizing for inside diameter
Delivery/Turnaround Time
3 to 4 weeks
Standards Met
ISO 9001:2008
Learn More
In what can only be called the ultimate turnkey project, K&B was able to use a variety of our capabilities on a single project, saving the client valuable time and money. To learn more about K&B and the benefits of working with a turnkey manufacturer on your next project, download our eBook, The Benefits of Using a Turnkey Manufacturer, for free today.